Spray coating is a process which is made of colored granules. It is mostly suitable for stadiums, running tracks or other grounds. This synthesized layer has high physical flexibility and tensile strength. It can withstand all kinds of extreme weather conditions such as prolonged sunlight, rain and frost climate. This guarantees the high quality of the product. As a leading company in this field, Integral Spor also performs and offers its customers the best spray coating running track.
Features of Spray Coating Running Track
Spray coating running track has many advantages thanks to the materials used in the process. We say list these features as follows;
Spray coating makes running tracks 100% waterproof and these structures may reach 400% stretch.
The product is solvent free and odorless.
Thanks to the materials used, it is UV resistant and suitable for all of the weather conditions.
It provides excellent protection against corrosion.
It has high resistance to all harsh weather conditions.
It has complete resistance to chemicals.
It is durable and has high impact and abrasion resistance.
It does not crack or deteriorate.
It does not break in high temperature and cold (-30 to +60 degrees)
It has excellent adhesion feature to many surfaces
The installation is finished in a short time.
Spray Coating Running Track Installation
Spray coating running tracks are made in accordance with the norms of the International Association of Athletics Federations. Spray coating system is an economical EPDM coating system with high impact absorbing feature, easy to apply and textured final surface. It is applied in a multi-layered manner. The base layer consists of a combination of SBR granule layer with polyurethane binders. The surface of the base layer is covered with polyurethane filler and fine EPDM granules.

There are three main steps to be followed for quality spray coating running track installation:
The floor must be clean, dry, free from oil and dust. After these preparations, spray coating process is started with the approval of the customer.
One-component polyurethane primer is applied on the floor. After drying, SBR or EPDM granules mixed with a polyurethane binder in a mixer are laid on it. Prepared with a special spraying machine in the ratio of 5A and 4B, outdoor self-leveling is mixed with special chemicals and colored EPDM and applied to the floor.
Considering Application Conditions
After the two components are mixed in polyurethane self-leveling, they become ready for use. While hot environments shorten the usage time, cold environments increase the usage time.
Spray Coating Running Track Costs
The cost of coating systems for running tracks may vary depending on the area of application, the preferred material or the additional features offered by the company. Therefore, it will be better to contact the company you prefer to get clear price information.
Avind and Spray Coating Running Track
Spray coating is the most preferred advanced technology for running tracks. It can be applied to many surfaces and it saves time and labor due to its immediate use.
If you also want to have quality running tracks, you may contact us immediately or take a look at our website. If you wish, you can fill out the form below and create a request. Our experts will get back to you as soon as possible and forward your requests to us. In that way, you will be able to get accurate information about further details. As Avind, we are always beside you in all of the processes!
FAQ
What is the spray coating system?
Spray coating system is a system consisting of 2 layers, flexible and shock absorbing, used for athletics tracks and walking paths.
How is spray coating applied?
It is mixed with a 10mm thick SBR rubber granule binder and applied to the ground with a finisher machine. After 24-48 hours, EPDM PU is mixed and applied by spraying. Then the lines are drawn.
Where are spray coating system grounds used?
They are used on athletics tracks, walking paths and jogging paths.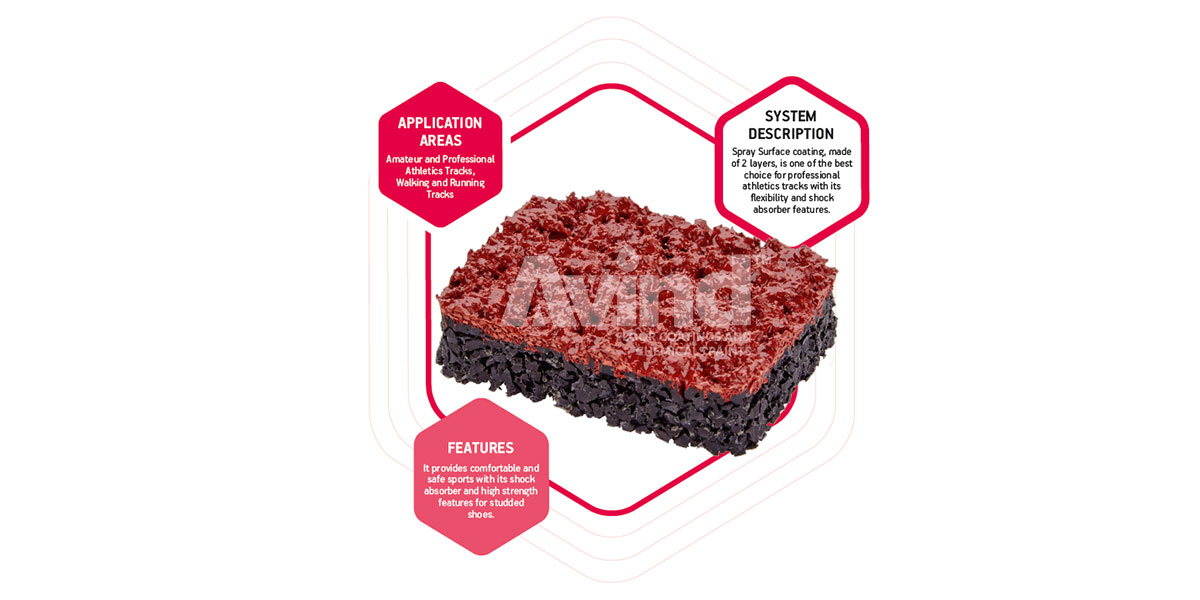 What are the most appropriate spray coating ground prices?
A special price is determined according to the amount, thickness and color in the project. Fill in the form for detailed information.
What are the color options of the spray coating system?
All colors can be used.
How much does spray coating flooring cost?
A special price is determined according to the amount, thickness and color in the project. For this you need to call or visit Integral Spor.
What are the benefits of spray coating grounds?
It gives confidence to the player. It prevents injuries in falls. The system is water permeable. It provides comfort where there is a lot of rain. It can be used for a long time thanks to the high binding PU inside the system. It can be used with high performance for many years. The system is approved by IAAF. International foot races can be made.