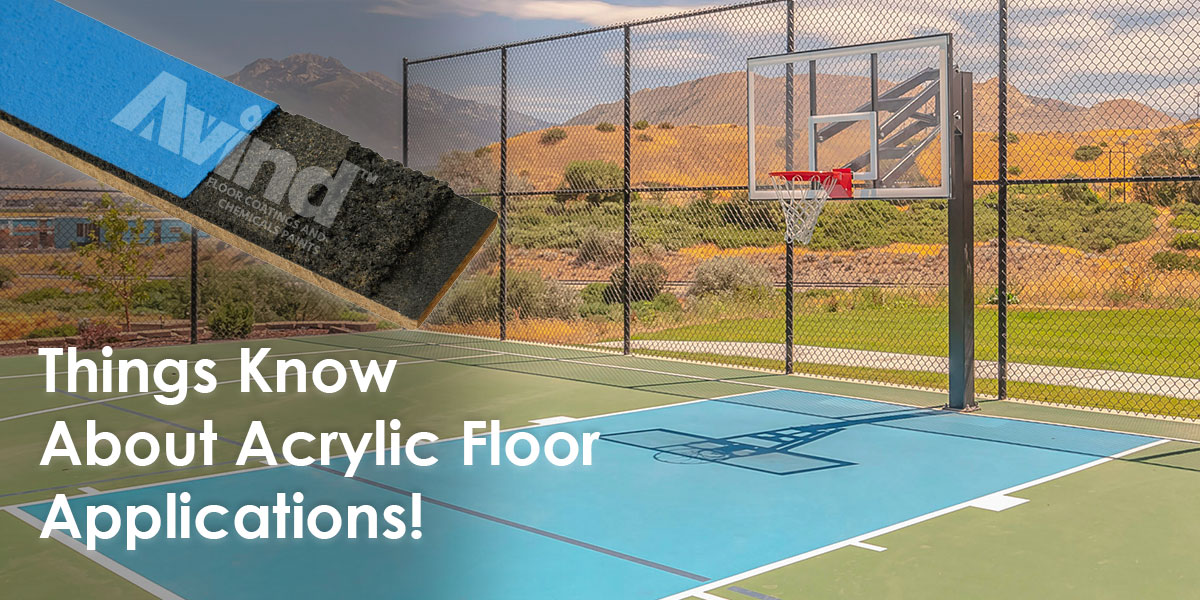 It is possible to come across different sports ground types. The kind of floor that players want the most while doing sports is flexible and does not harm their bodies when they fall. Basketball, football, volleyball, tennis and many sports fields that you can think of have its own floor type. In this article we will tell you about the acrylic floor applications. You can gather information about them reading this article.
Acrylic Floor Types
Acrylic floors are separated from each other according to the type of the material used. Acrylic floor can be made according to the desired floor characteristics.
Standard Acrylic Floor: A minimum of three coats of paint can be applied on the standard acrylic floor applied on concrete and asphalt, and can be manufactured according to the desired color code. After the floor is completed, two layers of acrylic paint can be applied for white border lines.
Acrylic Floor on Rubber: Primer and resurfacer can be applied on asphalt and concrete floors. Rubber floor is applied to the first floor and acrylic paint is applied twice to the last floor.
Cushion Acrylic Floor: Again, primer and resurfacer application is applied to the upper part of the asphalt or concrete, rubber powder layer is applied three times and lastly acrylic paint is applied twice.
Acrylic Floor Paint: When you like the color from the color chart for acrylic floor paint, it is applied to the mixture. One of the most beautiful features of acrylic floor is that you can get the color you want. Acrylic paint does not wear easily and has a long life.
If you want to make acrylic floor; You should work with a company that is an expert in the field, who does this task correctly and has a reference. You can get quick discovery and price support from our technical staff by contacting us.
In which Areas Acrylic Floor Is Used?
Acrylic floors, especially used in tennis courts, are also used in many other sports. It is a system that allows the game to be played in a controlled-ball manner within the field. Acrylic floors, suitable for all kinds of outdoor sports, are used in the construction of multi-purpose fields. It is the most widely used ground type in tennis courts.
Acrylic floor is a very economical floor type and it is resistant to UV sun rays and rain. Acrylic floor can be coated on concrete and asphalt. Acrylic floors are used in tennis courts, volleyball, badminton, athletics tracks, basketball courts and walking paths. The ball on this ground can be controlled very nicely.
How Acrylic Floor Covers Are Made?
After mixing various materials, the liquid reaches the consistency of the pellet, poured in separate layers on the asphalt or concrete floor at 12 degrees celcius air temperature without rain. The top layer must be poured again before the spilled substrate has dried out. And if a defect is present in the asphalt concrete, the floor must be leveled coated with another layer of concrete or asphalt. Then the operations mentioned above should be done in order.
Basketball courts, jogging paths, cycle paths, tennis courts, athletics tracks and many other fields that you can think of includes this type of ground. The flexibility of the floor compared to other hard floors and the fact that the surface does not wear too much, makes it to be used in international competitions.
One of the best advantages of acrylic floor is that it can be applied with different color types. Especially multi-purpose fields can be made with different color variations. Lines on acrylic floors cannot be easily scratched and erased.
Especially companies specialized in sports fields can apply this kind of flooring with great care. Since the construction of sports fields requires expertise, it is important not to leave it to everyone. If you are going to have a sports field, you should definitely work with companies who are experts in their fields and who do their task correctly. In order for a space to be built, it must first be designed in terms of ground and landscaping. In addition, all infrastructure works should be planned. The acrylic floor looks very smooth and proper for doing sports on it.
How Should the Acrylic Floor Infrastructure Be?
The area where the field will be built should be leveled properly. After leveling, it should be surrounded with a border of 6×20 cm. Eyebolts are placed in between certain intervals to the border in concrete mold to be used for wire fences. Large stones with a height of 15 cm should be filled into the border which will remain under 20 cm soil. The compacted stone should be made by mixing stone powder on the ground. As a result of the process, a slight inclination should be given to the field. Thanks to this inclination, rain water is discharged quickly from the field. During the filling process, plastic drainage pipes should be used to prevent the water coming from the bottom and to protect the top coating. There should be holes in the border against the mouths. The site is constantly watered to ensure a good fit and ready for asphalt pouring. Substrate must be arranged as asphalt or concrete before acrylic flooring is applied. On asphalt surfaces you must ensure that the floor is set 15 days in advance. All dirt and oil on the surface should be cleaned. If the floor is made of concrete, not asphalt, it should be constructed in such a way that it will not crack and the upper part so it should be smoothed and joints should be made. The joints should be filled so that it won't crack the acrylic cover with future dilations.
Applying Acrylic Floor Requires Expertise!
Anyone can claim to do any work, but the important thing is whether it is done correctly. There are different types of flooring available for sports fields. Acrylic floors are one of these types of floors. Acrylic flooring is used for indoor and outdoor sports facilities.
Both hard and flexible floors can be created and the desired properties can be given to the field. It is a kind of floor used in many sports facilities with different color options and it is also economical. The area where the acrylic floor will be applied should be asphalt and the coating should be made on top of the asphalt. Asphalt should be poured and rested in advance. This type of floor is a must for professional competitions, reducing and eliminating foot, waist and similar injuries that harm the players' health.[/column]