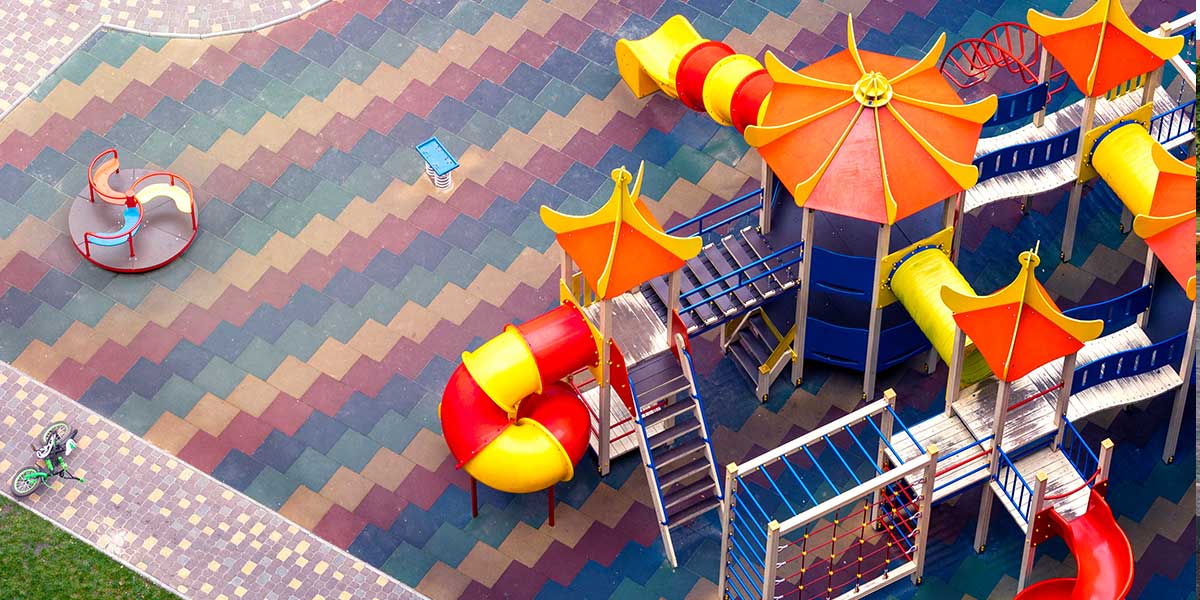 Children spend most of their day and free time playing. Since it is so important for kids to get fresh air and spend their time outdoors for their development, parents usually take them to playgrounds. What they ask for is their beloved children to spend their free time in a safe area. This bring us to the question of which space is the best for children's play area to provide the best playing experience. In pursuit of an answer, we encounter playground rubber tiles as a surface covering as the safest choice for children.
Outdoor rubber flooring is a popular alternative to choose as one of the best flooring types for your playground, and also other outdoor activities for kids.
For many reasons, rubber tiles are the safest and among the best coverage option for children's play areas. Rubber is generally the most preferred material when you want to provide a safe environment for children.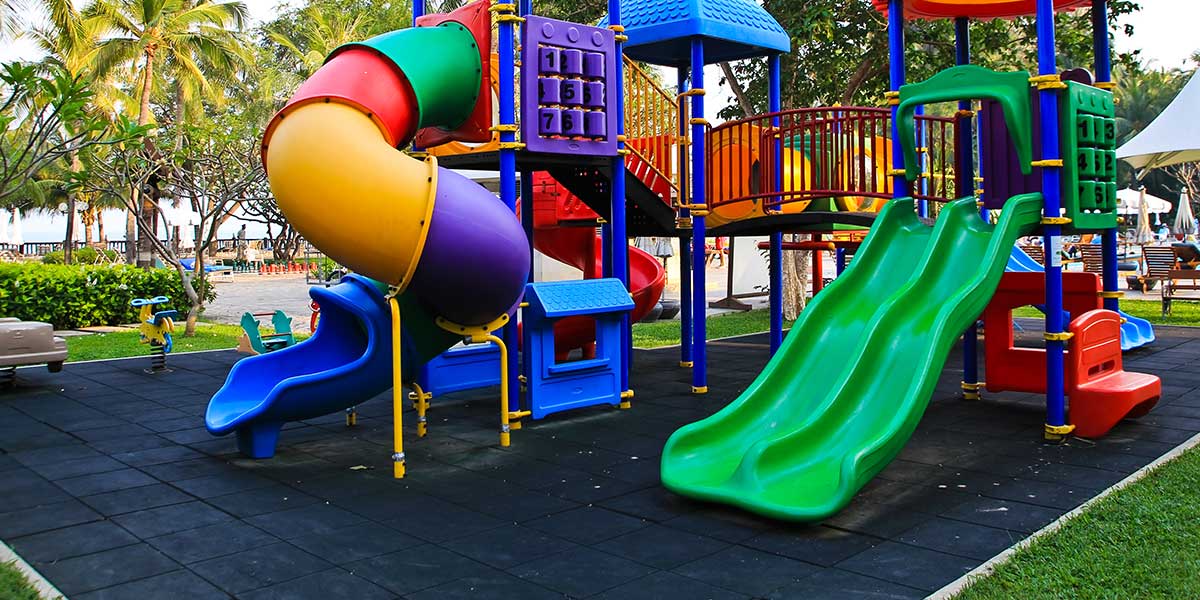 We can list several reasons below:
They provide a cushioning effect on the surface, and support children when they trip and fall to the ground.
Rubber tiles have a shock-absorbency feature which makes them highly useful in preventing injuries and bruises. Furthermore, they are non-slippery.
They can be applied in any place you prefer. They are durable in any negative weather conditions ranging from high temperatures receiving lots of sunlight, to low temperatures with heavy rain, snow and strong wind etc.
Wearing out or abrasions are not big problems. Friction force doesn't affect the flooring surface severely.
In case of any damage, they are effortless and fast to repair.
Cleaning rubber tiles are so easy, you don't need to spend lots of time or money for cleaning materials.
Upon installing, they last for a long time. You don't need to change and renew the tiles regularly.
Considering the reasons above, it is not a surprise that playground rubber tiles have been one of the most preferred flooring types.
But how to install playground rubber tiles? If you are curious about it, let's discuss the steps to follow together.
The Steps for Installing Rubber Tiles for Children's Playgrounds
Steps to install rubber tiles are practical. Our expert team will help you choose the best outdoor rubber tiles playground for children and install them to the preferred surface.
Step: Prepare the Surface
In the first step, you need to prepare the surface chosen to be covered with rubber tiles. Proceed from deciding on the color, thickness of the material to be used, and shape of the tiles. Continue with clearing the debris, remove things completely, and tidy the surface. The floor should be flat and smooth. Then, do the necessary measurements. This step is important to decide on ordering the exact number of tiles.
Step: Prepare the Materials for the Process and Align the Tiles
In the following step, prepare the equipment. Upon having a flat ground, apply the chemical adhesive to the surface and start interlocking playground tiles. They should be placed at a row spacing of 5-7 meters. Note that different types of rubber may require different techniques. We recommend you work with an expert company to provide the best service for you.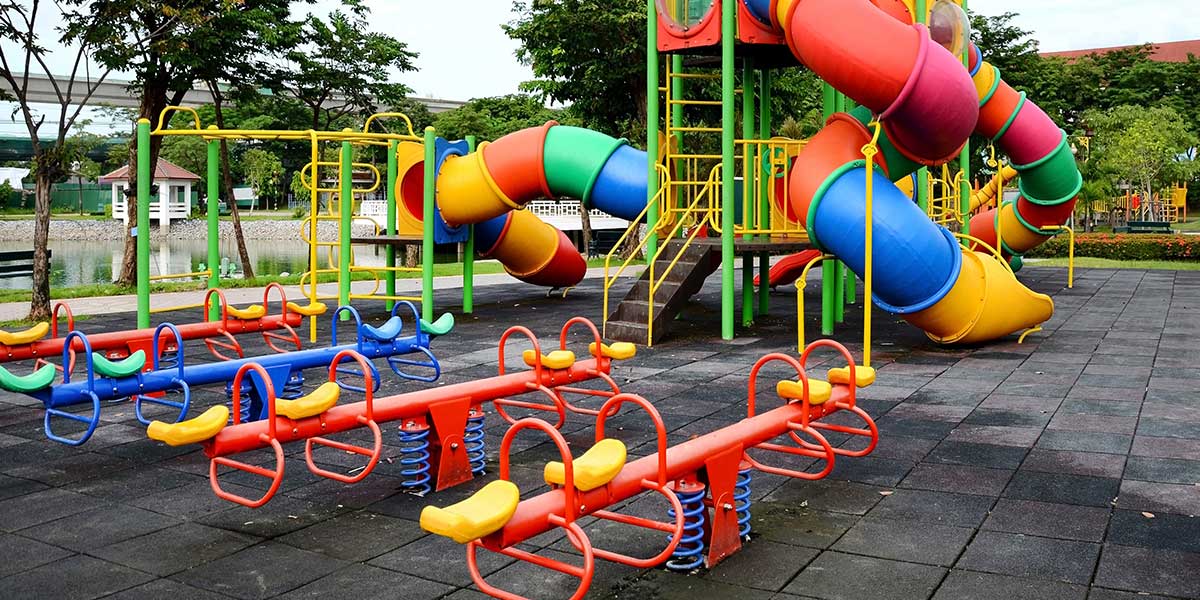 Step: Chamfering Process and Necessary Adjustments
Continue with chamfering process. You should apply this process to the upper part of rubber flooring to form a joint. The material applied is 20-40mm in thickness. Add the bumps to the bottom to increase the adhesion to the surface. Apply the rubber coating to the glued surface. A reminder here: You should not apply less than 0.5 kg of chemical adhesive per square meter during the installation process of playground tiles.
You should continue this process until the entire surface of your playground is covered, and the tiles are pressed and locked together. Do the necessary adjustments if needed?
Playground Rubber Tiles Cost
The prices of rubber tiles to be applied on the play areas may vary depending on several criteria. Playground rubber tiles' cost depends on the preferred color, size of the surface, and thickness of the material. The standard colors for rubber tiles are green, black and red. Their thickness is between 20 to 40mm, and they are produced with one or two layers. But let us inform you, apart from standard ones there are also different color options.
Upon choosing the best options for your play area, then the exact rubber playground flooring cost will be determined. Contact us to learn more rubber flooring and cost of poured rubber playground surfaces. For further information and price offer, you can fill the form below. Our expert team will get back to you as soon as possible.