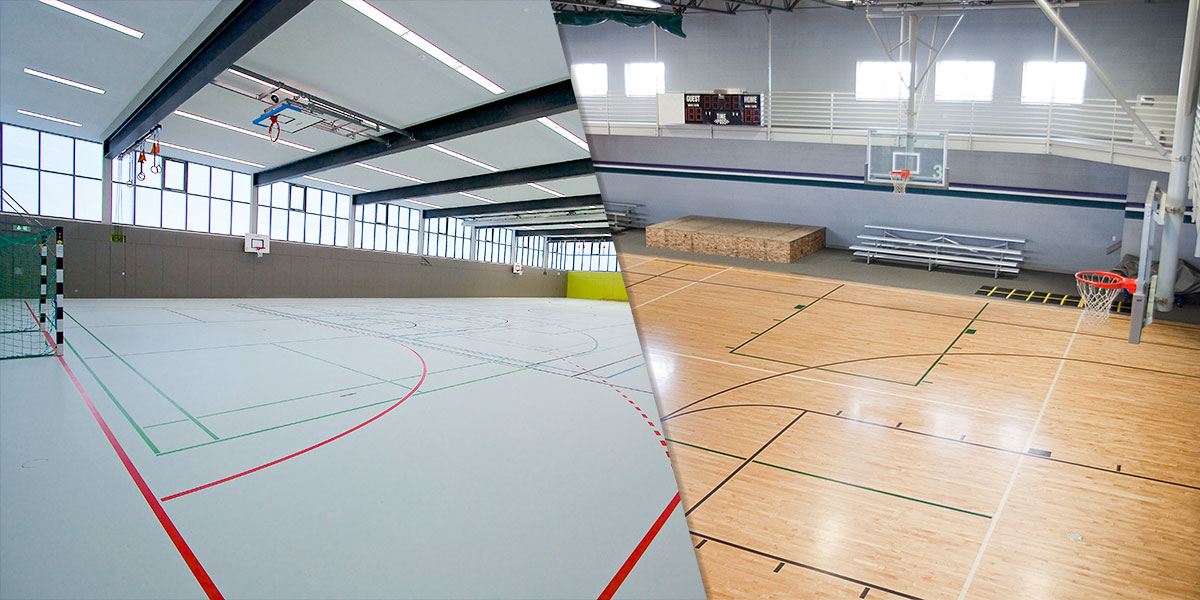 In general, people prefer to do sports in fitness gyms. Sports flooring material in gyms should be flexible. In our daily life, doing sports for human health keeps our body fit and allows us to have a more vigorous structure. Many people have made sports a hobby. And it continues this as an activity. There are many synthetic or natural sports hall flooring types that can be used in indoor sports halls and indoor areas such as gym/fitness halls. The product that is frequently used in fitness gym flooring is PVC flooring material.
Thanks to its shock absorbing and flexible structure, PVC floor provides sports hall flooring protection in the athletes in falls and eliminate the risk of possible injury. With its sound absorbing structure, the PVC floor covering absorbs the sound in the environment, especially when you are working with sports equipment, it minimizes the sound that will be made when you leave the equipment on the ground or throw it away.
When choosing fitness gym flooring, attention should be paid to the fact that the product is a material with heavy traffic. Because fitness gyms are areas where people use intensely and where heavy sports equipment is located. PVC flooring is a heavy traffic product. With its impact-resistant structure and solid quality wear layer, it is not destroyed for many years and does not require maintenance for many years.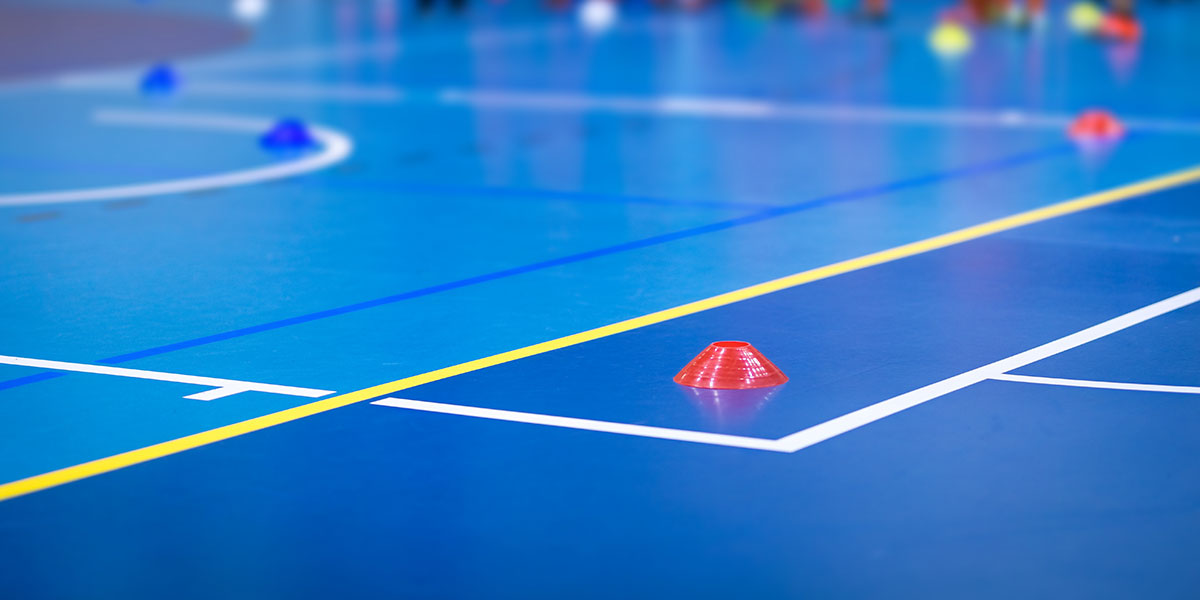 Another important issue in sports flooring is that the product used is not harmful to human health and does not contain carcinogenic substances. Since PVC floor coverings have antibacterial properties, they provide a very hygienic and sterile environment on the applied floors. Daily maintenance and cleaning is very practical and easy.
PVC flooring adds a different atmosphere to indoor gyms with its visually stylish and decorative appearance in the application of fitness gym flooring. Different products are used in different parts of the gym. For example, rubber flooring can be preferred in weight training areas.
1.    Synthetic Sports Flooring System
Synthetic flooring systems are among the most preferred sports hall flooring types due to their flexibility, comfort, sound retention and reducing slippage on the floor. There are many types of floors that can be used both in indoor sports halls and in areas such as gyms. We can list synthetic floors as follows;
PVC sports flooring (indoor gym PVC flooring); It provides sound absorption with its colorful and dynamic image. It is an affordable solution for indoor sports halls, gyms and multi-purpose fields.
Rubber sports flooring; thick rubber floors provide high flexibility and safety. The gym should definitely be used in fitness areas, especially in weight-trained areas. In multi-purpose indoor sports fields, basketball, tennis, volleyball, handball etc. Suitable for sports. Rubber flooring is generally recommended as rubber tile in gyms. Tile rubber flooring used in fitness room flooring should generally be 40×40 or 50×50 in size and the recommended thickness should be at least 2cm.
Polyurethane flooring; It is a special coating with rubber on the bottom layer and PU paint layer on it. PU floors are generally used in indoor gyms. It is very suitable for sports such as basketball, volleyball, handball.
2.    Natural Sports Flooring System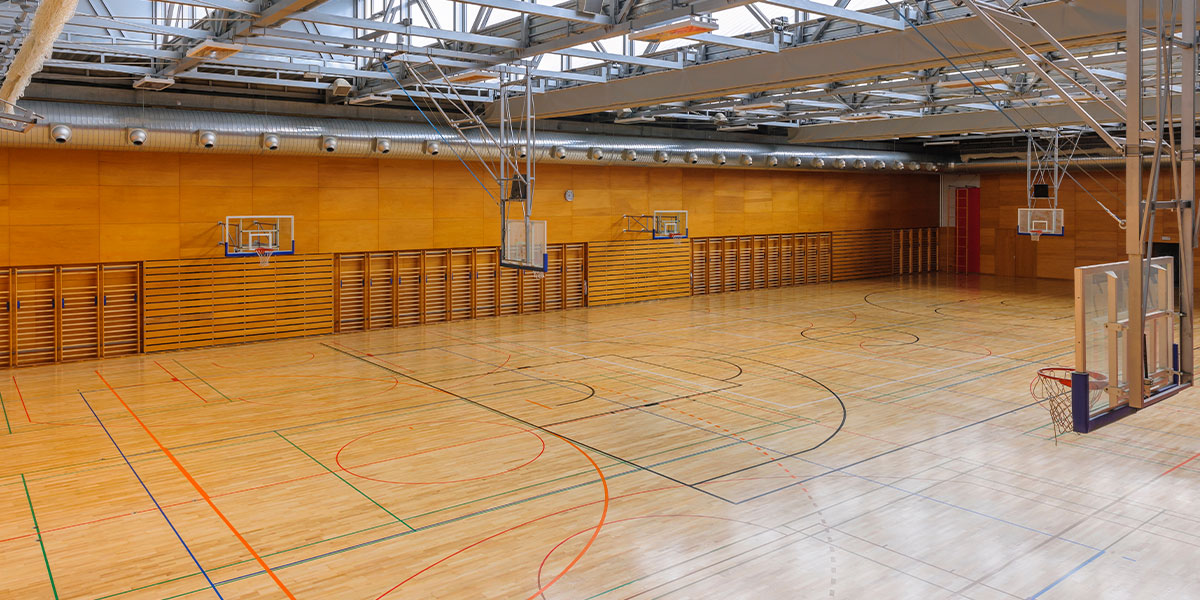 Natural sports flooring is a high quality and sustainable option.
Wooden flooring for gym: sports parquet types are preferred especially for professional indoor sports hall flooring. Our best quality gym flooring types such as wooden sports flooring as Sports Flooring System which has strong exportation connection with the UK, Albania, Afghanistan, Nigeria, Georgia, Serbia, Italy, Spain that can be used for professional basketball, ballet and dance halls, squash, fitness, gymnastics areas, indoor volleyball court flooring, handball court flooring, multi-purpose field floors. You can contact us for fitness gym flooring prices and more detailed information.
Linoleum flooring; With its natural content, linoleum has the same advantages as PVC sports flooring. In addition to color options and flexibility, there are also wood-like models available. It has a wide area of use from indoor gyms to gym halls.
Floor coverings, which should be protective, simple, economical and safe even when heavy sports hall flooring material are placed on them, should be made with durable materials that provide ease of use in indoor sports halls. If floor coverings such as wooden parquet are insufficient to meet the needs in indoor sports halls that are widely used and require durability, polyurethane flooring can be used instead. It is resistant to heavy materials such as polyurethane flooring, portable tribune, chairs, tables and impacts. You can also use polyurethane flooring to eliminate the damage that can be caused by indoor sports.
Polyurethane floor covering, which has no joints and is long-lasting, is prepared with a very thick, durable material. It is completed with polyurethane-based matte paint. It provides an economical and safe space suitable for floor covering needs in indoor sports halls. Optionally, seamless, rough, smooth surface, glossy or matte surface can be obtained in polyurethane flooring. It also provides color, texture and geometric floor covering when a decorative surface is desired. It can be used in basketball, volleyball, tennis courts, gymnastics, wrestling and all other indoor games in a durable and sterile way.