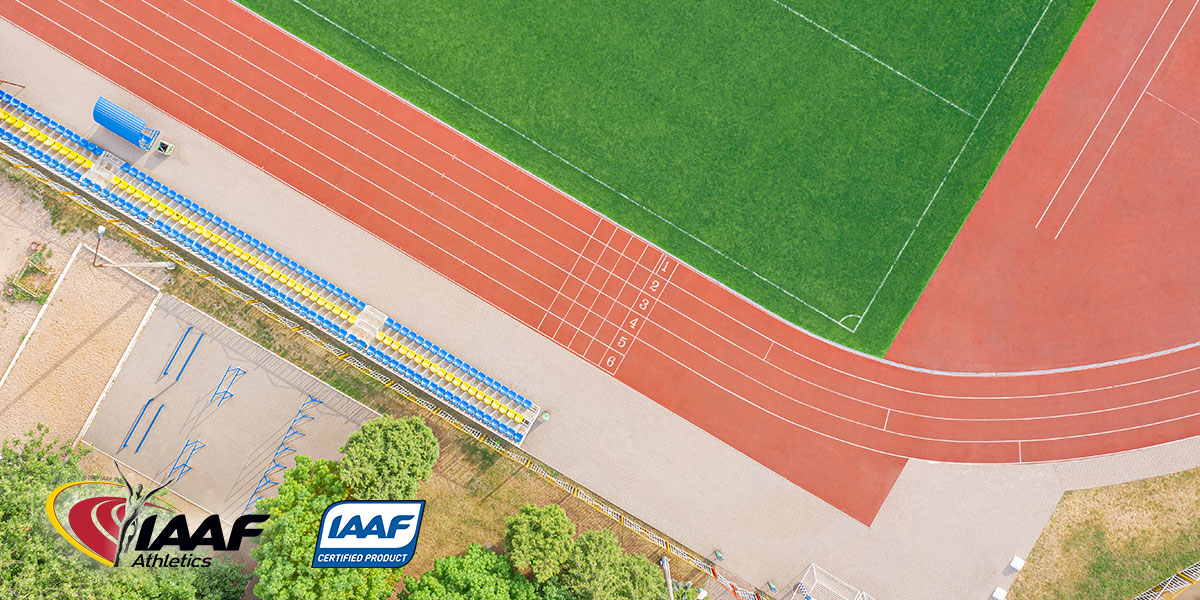 This article contains information on the construction of an IAAF-approved athletics tracks. We as Sports Flooring System which is one of the most experienced track and field construction companies in this industry, listed the information you are looking for about the dimensions and the materials used.
Athletics Track Construction
Athletic tracks suitable for professional use and jogging tracks used in parks and gardens are made of different materials. For athletics track construction, it is mandatory to use SBR and EPDM rubber materials, especially on running track construction specifications to areas where professional athletes will compete, such as the Olympic stadium. For the stages of athletics track installation, first of all, the slope of the ground is controlled and all parts are leveled by doing the necessary work.
The required flat surface should be obtained with the help of all rubber and granular materials by laying the layers. It is possible to use materials with different colors on athletics track events, which have a predominantly red tartan floor structure. By contacting our company, service can be obtained for the creation of an athletics track for the designated area. We build athletics track and field all over the world such as in the USA, the UK, Afghanistan, Albania, Algeria, Malta, Italy, Spain, Portugal, Georgia, India with the highest quality materials and expert team in this field.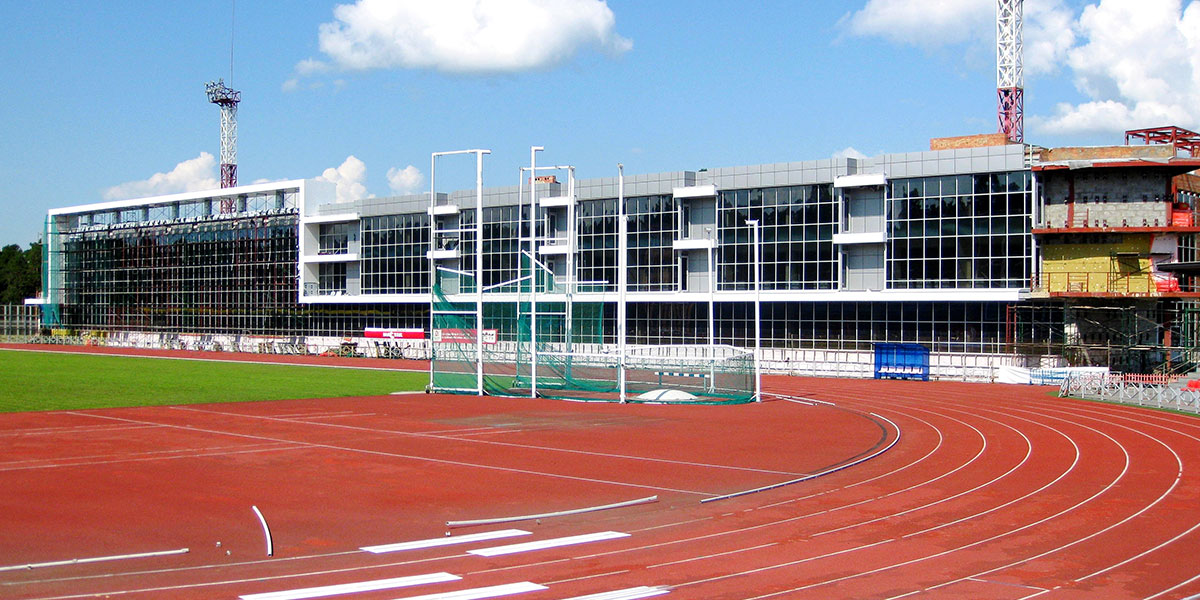 How Much Does It Cost to Build an Indoor Track?
Construction of synthetic athletic track is a job that requires a lot of professionalism. Even the line drawing of the athletics track requires a lot of professionalism. There is absolutely no room for amateurism or error in such sporting structures. IAAF (International Athletic Federation) standards are very strict and getting an IAAF license is very difficult. All norms must be completed perfectly. Items on how to build an athletics track are listed below. The stages of athletics track construction are as follows;
It is ensured that the ground is made flat, cleared of slope and compacted. After the substrate is made tight and flat, it is necessary to place the composite material in such a way that it has a drainage channel.
On the track where the necessary infrastructure works are carried out, it is necessary to pour asphalt at a height of 10 centimeters after these operations. It is extremely important to create a smooth asphalt layer. It is not mandatory to use only asphalt material. In cases where asphalt cannot be obtained, it will be appropriate to pour concrete at a height of 10 centimeters and level it.
The most important condition to be considered in the process of creating a 10-centimeter floor is fluctuation. It is to ensure that no more than 3 millimeters of fluctuation occurs across the track.
With the polymer application, a layer is prepared on the concrete floor and under the rubber floor. The connection of the two fields is firmly established.
It is necessary to pour the rubber SBR granule prepared with a binder on the polymer.
For both layers, editing is done with the help of hot machines. Finally, lines are drawn with the help of striping machines and the runway is ready.
IAAF Approved Athletics Track Construction Specifications
One of the most striking requirements for IAAF-approved track and field tracks is the 400-meter net length of the tracks. It is not a situation that directly benefits the athletes in this area. In accordance with the standards, the length must be constant in the form of a full 400-meter lap. It is also necessary not to create runways of different lengths, such as 401 or 398.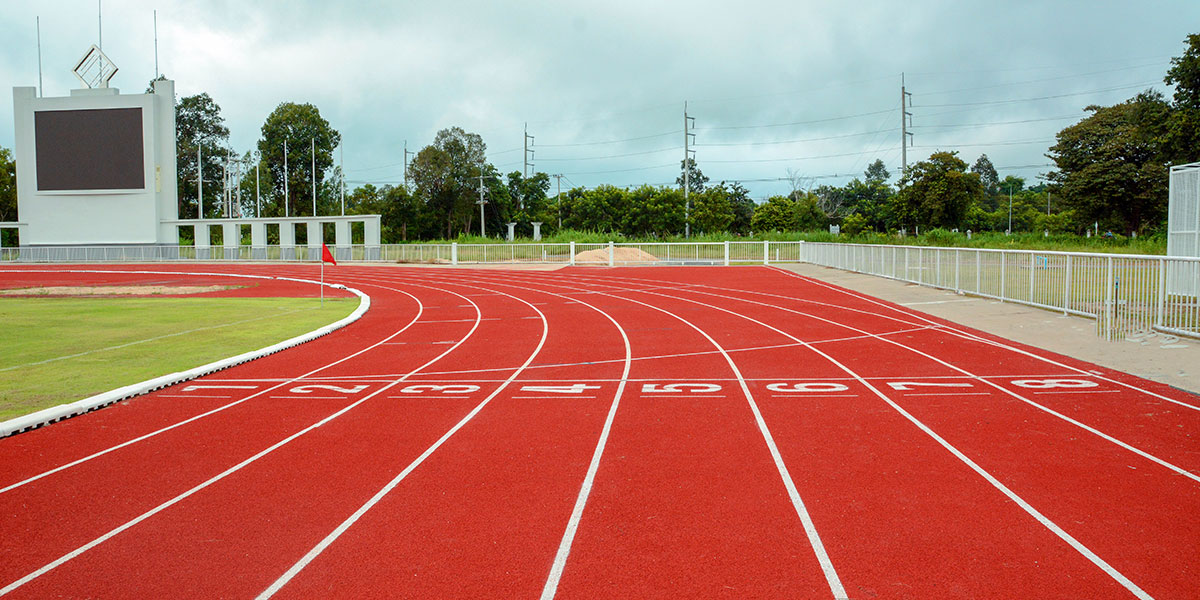 If these materials are found to be of poor quality during the examinations, approval is not given. Since it will not be an IAAF-approved runway, it will not be possible to organize various events. It is not possible to obtain permission to comply with the standards for each runway. You can get help from our company while the track is being built, and you can request that special studies be carried out in order to comply with the required standards. For the construction of an IAAF-certified athletics track, another aspect other than the infrastructure is the track line. Although drawing a line may seem simple, it is a matter that requires a lot of attention. If there is any mistake in line drawing, it becomes impossible to get a certificate.
While calculating athletic running track cost, it varies completely according to the features you want in terms of the synthetic track price. Line drawing, jumping tower, sandbox, etc. It will be the most logical result to cost the materials you choose from materials such as an invisible part of the athletics track is the tribune. As normal reinforced concrete tribune can be made, portable tribune with collapsible features can also be made. All these nuances are calculated and a net cost is obtained in cost to build 400-meter track. Even the smallest feature can reduce the running track construction costs considerably in athletics track construction works. If you are interested in our offers you can check our next articles about how much does an 8 lane track cost and etc. out or you can make an appointment to get deeper information.