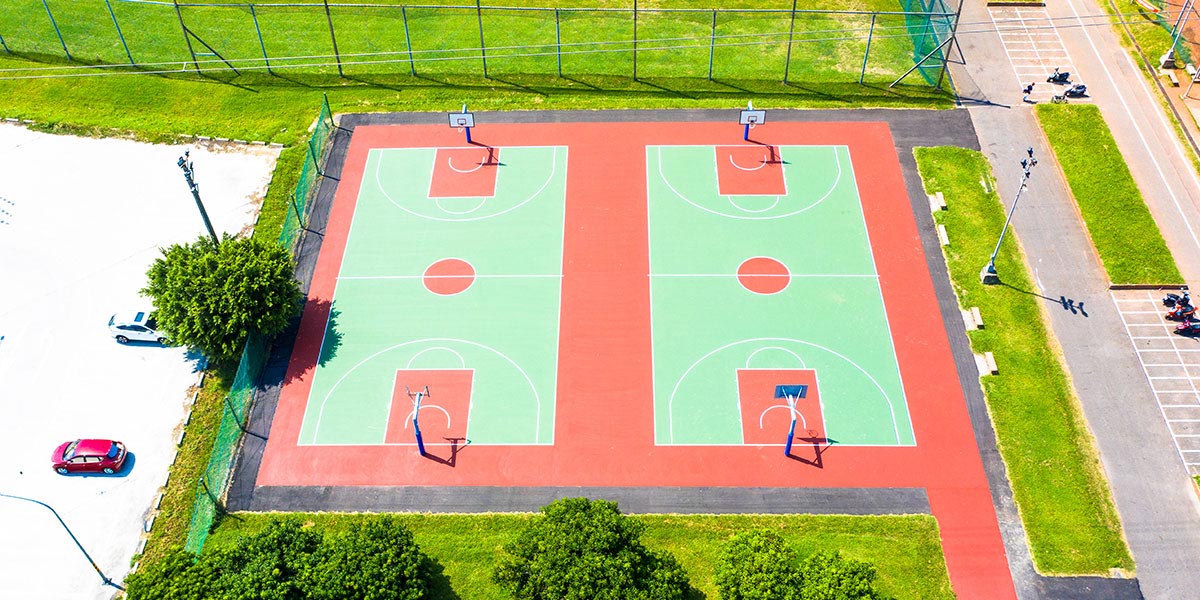 Indoor areas are generally preferred for playing basketball. However, in today's conditions, people have started to prefer to play in open areas. Since the game of basketball is an active game, it is a sport open to falls and injuries. Therefore, the floor of the area where basketball will be played must be of a feature that will minimize injuries caused by falls. Of course, when it comes to basketball court flooring, as Integral Sport, we offer you a professional flooring service.
Rubber or acrylic flooring method is generally used in basketball court flooring process. The floor covered with acrylic or rubber prevents serious injuries as a result of falling. In addition, basketball is a type of sport that is played loudly due to the excitement and movements of the game. The rubber or acrylic flooring that we produce as Integral Sport has a noise-reducing feature.
The floor coverings produced by Integral Sport and applied to basketball courts have the features to be used for many years without wearing out. Due to their durability and usefulness, both acrylic and rubber coatings are the most preferred types by our customers. You can start using it in a very short time after you perform the flooring process on your basketball court. As Integral Sport, we offer you the best basketball flooring and best flooring for indoor basketball court coating processes with a highly professional team.
Outdoor & Indoor Basketball Court Flooring
Basketball courts do not have to have various features. Since the ball needs to bounce on the ground, the field characteristics will also be shaped within the framework of this need. For this reason, basketball clocks should be flexible and absorb the speed of the ball hitting the floor. As Integral Sport, we make your outdoor basketball court flooring according to your wishes and deliver them to you.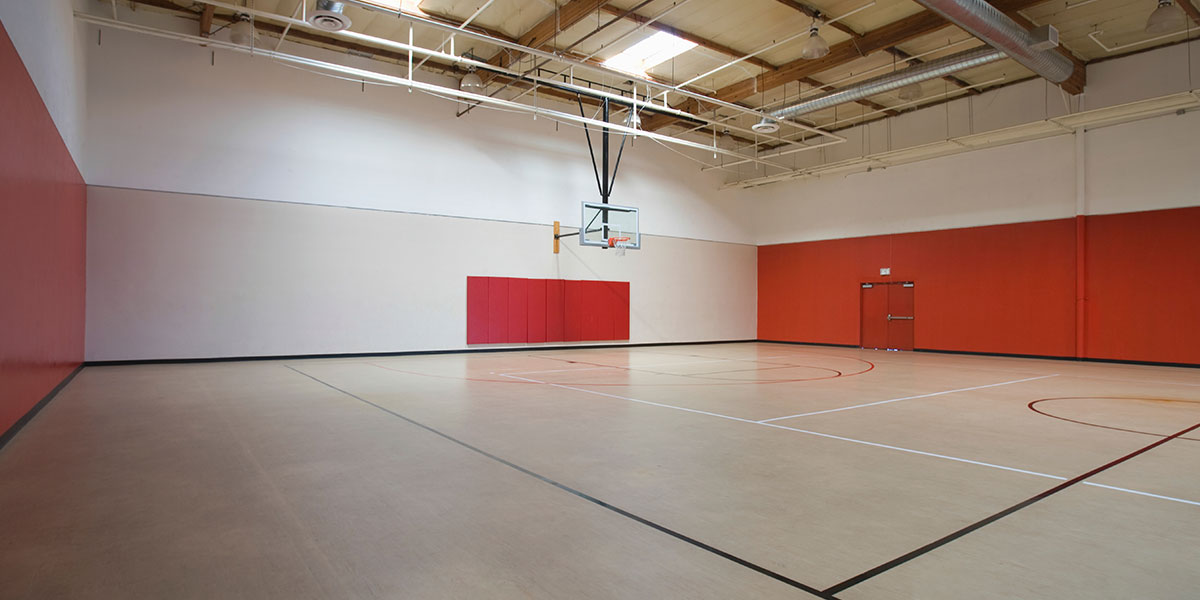 One of the most important stages in the construction of basketball courts is determining the type of floor. These floors are as follows;
1. Acrylic Floor
There are some rules to consider when applying acrylic to basketball courts. The most preferred floor for the construction of outdoor basketball courts is acrylic floors, that is, floors made with acrylic paint.
For the construction of an outdoor basketball court, first of all, a concrete floor must be prepared. Most importantly, acrylic paint is applied to the side, which is called the helicopter concrete floor, after the concrete has dried on the well-levelled surface. In this way, problems are solved on the basis of weight. Basketball courts made with acrylic paint can be shaped according to the colours you want.
2. Polyurethane Floor
Indoor gyms are also known as multi-purpose floors. This type of floor covering has become very common in recent years. The most important feature of multi-purpose floor coverings; many sports branches such as volleyball, football, handball and tennis can be done. The first stage of the construction of these fields is to get a flat again by pouring concrete on the ground.
Asphalt can also be used as a floor material, but asphalt is not preferred because it is not hard enough. For this reason, concrete provides a harder and flatter surface for proper application. Afterwards, surface application is made.
3. Rubber Flooring
Rubber basketball court flooring is one of the most flexible materials available in the world. For this reason, rubber flooring feels very soft and comfortable underfoot. Generally, the thicker the flooring, the softer it is. Many types of rubber flooring are made thicker and softer by adding fabric, cork or foam-rubber backing. For this reason, these products we have produced help to reduce fatigue and foot injury. Especially vulcanized rubber floor coverings are very useful in this regard. Because it absorbs even the most severe blow, it also reduces muscle stress.
Soft and flexible rubber provides athletes with excellent protection and excellent shock absorption and cushioning. It meets all standards for traction, rolling, skid resistance, surface wear and stability set by major sports leagues and federations around the world.
All these factors make rubber flooring one of the safest sports flooring options on the market. As Integral Sport, we continue to work to provide you with the fastest and highest quality service with our experienced and expert team in basketball floor types, basketball court flooring material, basketball court flooring wood, basketball court flooring indoor cost, and outdoor basketball court flooring cost.
4. Tartan Floor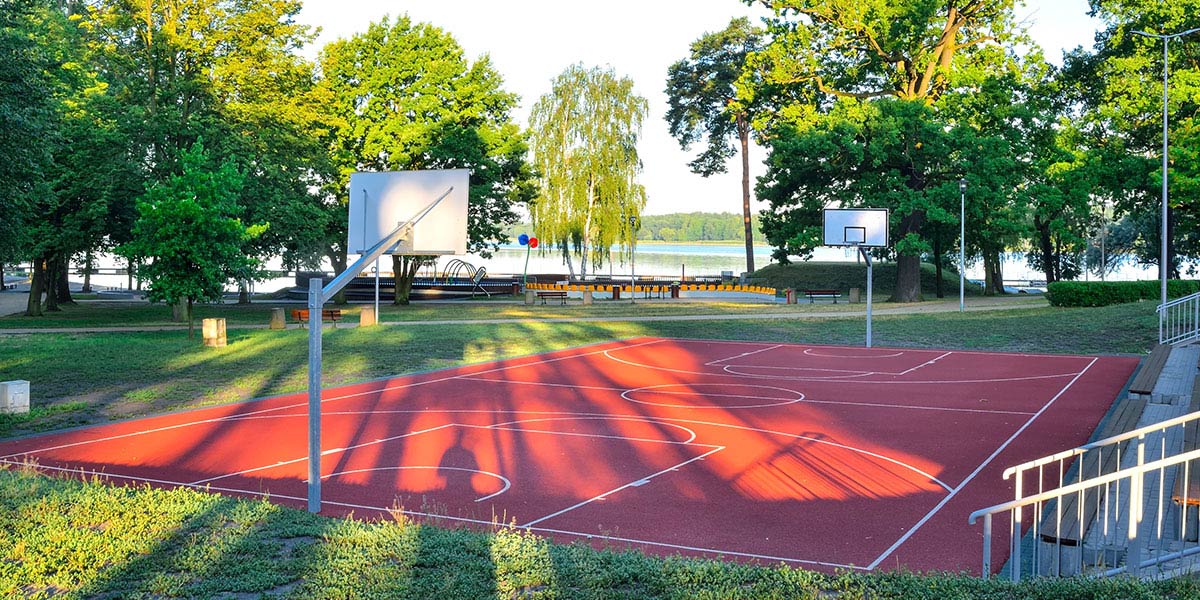 Tartan flooring is one of the most widely used flooring methods among basketball court types. Although it is quite durable, its application is more difficult than other applications. It is elastic and non-slip. It has UV protection properties. Production is made in the colours you want, including red, blue, green and brown. You can contact us to take advantage of these applications.
Basketball Court Flooring Company
Our basketball courts; It is produced entirely in-house and installed by our expert team to provide a safe, enjoyable and quality gaming experience. Our basketball courts, which are produced on acrylic, tartan, rubber or polyurethane floors according to needs and requests, are made with a focus on protecting player health. Integral Sport as basketball court flooring company, serving at world standards; constructs indoor or outdoor basketball courts in different sizes and types of floors.
There are different factors that determine basketball court construction costs. Whether the field is open or closed, the type of ground, the types of materials used; Factors such as the presence of a basketball hoop, stands or scoreboard (scoreboard) determine the construction and installation costs. You can contact us for basketball court construction cost and price information.